About Geraldine E. Anderson
Geraldine was born on February 18, 1927 in her childhood home in Dresser.  She was baptized and confirmed at Bethany Lutheran Church in Dresser.  She attended Dresser Elementary School, Osceola High School, and graduated from Superior State Teacher's College (now University of Wisconsin-Superior), earning a Bachelor of Science degree.
Geraldine taught elementary school for three years in Beloit, WI, two years at the Polk County Normal School (Teacher's College), and thirty-five years at Osceola Elementary School, retiring in 2000.
Geraldine was very involved in her community, serving as President of the Business and Professional Women of Beloit, she was a lifetime member of the Order of the Eastern Star (serving as Worthy Matron), President of  the Dresser Women's Club, Cub Scout Den Mother, Boy Scout Troop Council member and Treasurer, long-term member and President of the Dresser Library Board, life-long active member of Bethany Lutheran/Peace Lutheran Church, serving on the choir, committees and women's groups, teaching Sunday School, and mentoring confirmation students.
Geraldine was passionate about teaching young people to read and spending time with family and friends.  She also enjoyed walking, reading, music, and sports, especially the Minnesota Vikings.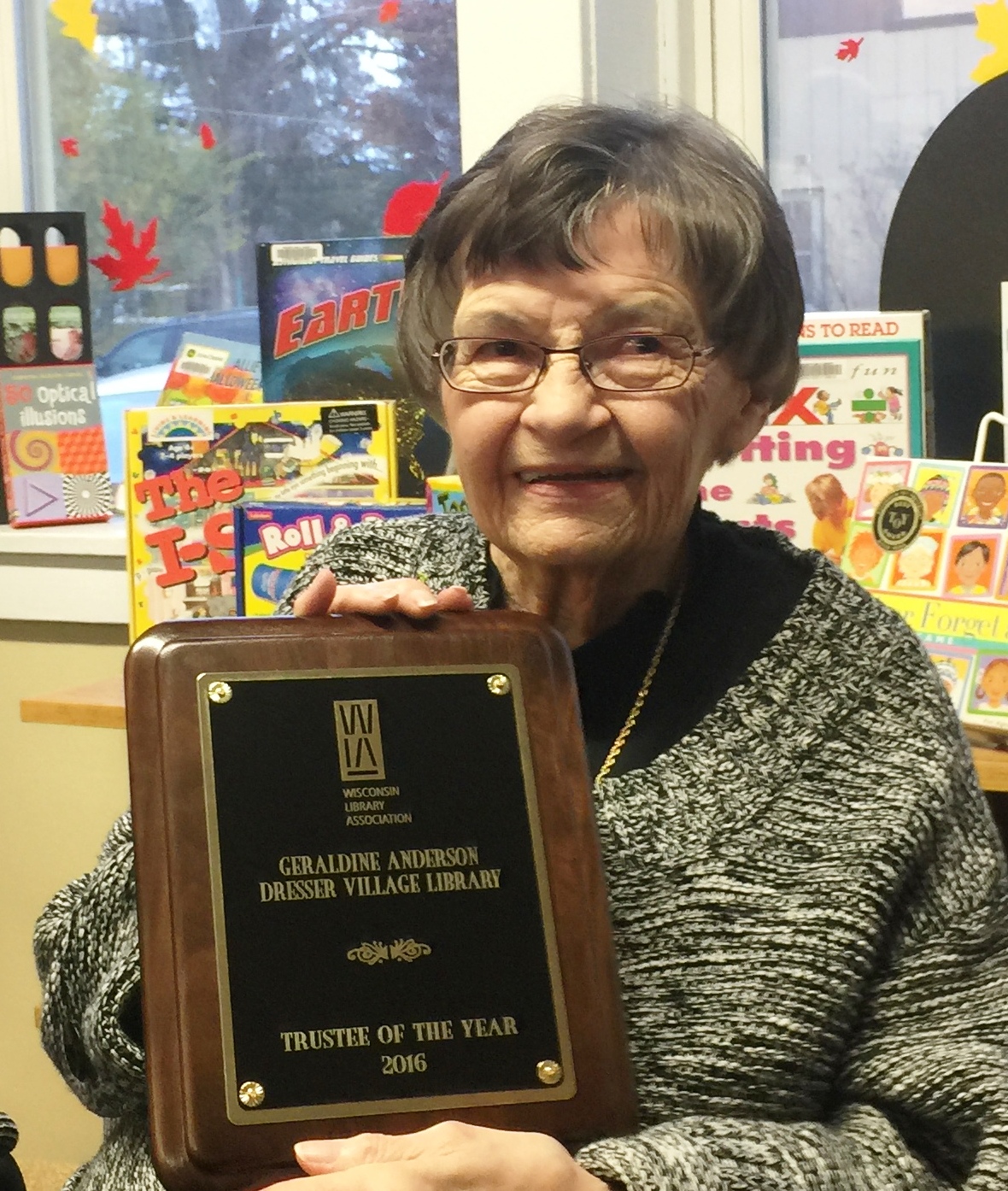 That library is very near and dear to my heart. I am proud to have been part of it and to have worked with board and staff. I worked in the library when I was a senior in HS. If I can't do a good job, I shouldn't be there.
As a child, Mom would lay with pillows and blankets between the round oak stove and the wall and read Nancy Drew mysteries.
Geraldine E Anderson Village Library
117 South Central Ave.
PO Box 547
Dresser, WI 54009
Phone 715-755-2944
Hours
Monday 10 am - 7 pm
Tuesday 10 am - 5 pm
Wednesday 10 am - 7 pm
Thursday 10 am - 7 pm
Friday 10 am - 5 pm
Saturday 10 am - 1 pm
Sunday  Closed